30 Totally Underrated Inventions on Amazon Launchpad
Published by Salvador Briggman. Find him on Twitter.
Amazon Launchpad helps consumers discover unique products from today's brightest startups. Customers can browse through hundreds of cool items that are hard to find anywhere else, and support companies that are putting out some really great products.
"We curate innovative products that are hard to find in the market, showcasing an ever-expanding collection of fresh new products from popular crowdfundingplatforms, incubators and startups," Amazon explains, "Explore the stories of the inventors and entrepreneurs that brought these ideas to life, then buy with the all confidence you expect from Amazon."
To find items that appeal to them, Amazon users can search through categories like body, food, toys, gadgets, house, and more. Users can also search through various collections, including the Kickstarter Collection, Funded with Indiegogo, Funded on CircleUp, and the Health and Fitness Collection.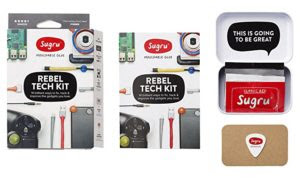 Sugru is the world's first moldable waterproof glue that turns into rubber. You can easily mold it to almost any surface for a strong and durable finish.
The Sugru Rebel Tech Kit helps you fix things, enhance old items, and even create new ones!
This kit is currently available on Amazon for $12.75.
Soylent is a vegan, ready-to-drink meal in a bottle that is a great way to make sure that you're getting the nutrition you need when you are on the go.
Thus far, the product has received over 900 reviews on Amazon, with an average of four stars.
According to the label, each 400 calorie bottle contains 20% of your daily nutritional requirements.
The company is dedicated to using sustainable ingredients and currently offers this drink in 3 flavors with one caffeinated option.
A 12 pack of Soylent can be purchased on Amazon for $37.05.
The Rocketbook Wave is the first smart notebook that allows you to write your notes out while instantly saving them to the cloud using your smartphone.
If you use Pilot FriXion pens to take your notes, you can place your notebook in the microwave when the pages are full to erase everything and reuse it again!
At the time of writing, this notebook has over 300 reviews on Amazon with an average of four stars. The notebook was funded on Indiegogo and has been mentioned on sites like Fox Business, USA Today, CNET, and more.
Customers can buy a 2-pack for $27.00.
Did You Feed the Dog? is an ingenious little device that mounts to just about every surface.
It has A.M. and P.M. buttons for each day of the week that you slide over after feeding the dog. At the end of the week you reset and start again.
This device helps families avoid overfeeding their dogs, which could lead to obesity and other health problems.
The product received over 100 customer reviews on Amazon, with an average of four stars.
These are sold for $9.95 each on Amazon.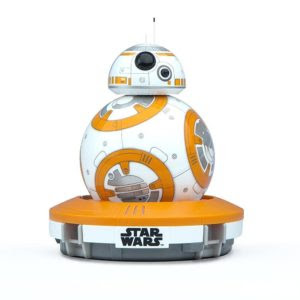 Cute robots in movies used to be something that we dreamed of owning in the past. Now, you can buy an app controlled robot that is just like the one in Star Wars!
This little guy has a tough, waterproof shell and a 60-minute battery life.
If you don't have a kid, this was one of the more popular Christmas presents this past year.
It's racked up more than 2,000 reviews on Amazon, with 64% of them being five star reviews!
This fun droid is available for $129.95.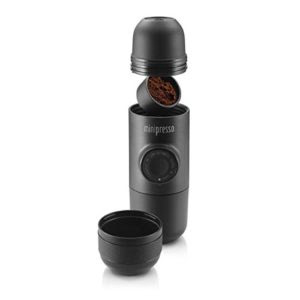 Love a good espresso, but don't want to be bogged down by a big clunky machine?
MiniPresso GR Espresso Maker is a compact, hand operated espresso machine that's about as big as a water bottle.
You can make fresh espresso anywhere with some hot water and ground beans.
At the time of writing, 70% of this product's reviews are five stars!
MiniPresso is currently available for $59.95.
The PDX Pet Design Licki Your Cat Brush is basically the ultimate crazy cat lady tool.
Rather than brush your cat to groom them, this tongue extension lets you lick them and provide a better bonding experience for you and your furry friend.
If you're a cat lover, it doesn't get any better than this! According to the company, the Licki is "oddly meditative practice, soothing for both you and your cat"
This product started out on Kickstarter and ended up raising $52,000 from over 2,000 backers.
Cat mommies can buy one of these for $24.99.
One of the biggest questions when it comes to good gun control is how do you keep a gun available in case you need it, but also safely locked away from kids and others?
The GunBox 2.0 is addressing this issue with their smart, compact gun safes.
This safe opens using fingerprint scanning for quick access or can be opened using a key card.
It also has an anti-tampering alarm.
It costs $319 on Amazon.
It's no secret that our smartphones get dirty after being carried with us everywhere and occasionally dropped on the ground.
Then we touch our phones with our hands and put them close to our faces, spreading germs everywhere!
PhoneSoap sanitizes phones to get rid of 99.9% of bacteria, while charging them at the same time.
They are available for $59.95.
Bellabeat Leaf is a compact health tracker that looks like every day jewelry but is specially designed to help women monitor their health. Unlike other clunky-looking tech devices, you'll feel fashioable and healthy with the Bellabeat.
Bellabeat tracks the wearer's sleep, activity levels, steps taken, menstrual cycle, stress, and more.
This product has accumulated over 500 reviews on Amazon with 60% of them being five stars.
If you want to check it out, the Bellabeat version is available for $139 on Amazon.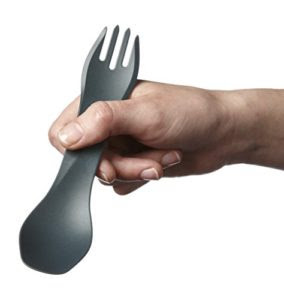 Humangear GoBites is the perfect minimalist utensil that is dishwasher safe, non-toxic, and made from extremely durable nylon.
It is perfect for any meal on the go, with a spoon on one end and a fork on the other.
You can use this product when you're on the go, commuting, hiking, traveling, and much more. It's ultra durable and the product comes with a lifetime warranty.
The GoBites took two years to develop and is now available on Amazon.
You can get your own for $3.99.
Ζiplog bags are great. They are the perfect way to store food and pack snacks for school or work, but what about the environmental impact?
BlueAvocado has introduced reusable zip seal bags that are leak proof, freezer safe, and hand washable.
You can grab a five pack now on Amazon for $17.03.
TINE Tags are awesome programmable stickers that let you attach video, audio, and photo messages to anything!
Simply stick a TINE tag on anything (a card, gift, note, etc.), use the free app to scan the sticker with your smartphone, and record your message.
When someone scans the code your message plays and you get a notification.
Pretty cool, huh?
You can get 100 black and white TINE Tags for $39.99.
One full charge of this compact, portable solar lantern will give you over 70 hours of light.
Sun King Pico Portable Solar Lantern is durable and water resistant, perfect for use at home or on camping adventures.
At the time of writing, 95% of the reviews for this product are five star reviews. This handy light is available for $19.99 on Amazon.
Dacuda PocketScan is a compact, wireless scanner that works with smartphones, tablets, PC, or MAC.
Perfect for creatives and professionals on the go, PocketScan can recognize text in over 60 languages and offer instant translation.
It's great for scanning things in low light and works with Microsoft Office and Evernote.
PocketScan is available for $149 on Amazon.
The Go-Comb is the perfect solution for styling your hair and beard on the go.
It fits in your wallet so you won't forget to take it with you, and it doesn't take up a lot of space.
Go-Comb is made from durable stainless steel and even includes a bottle opener. Talk about slick.
You can get your own for just $15.99.
Why stop to drink a cup of coffee when you could eat one and get the same results?
Each pack of Go Cubes Chewable Coffee is equivalent to two full cups, and fits right in your pocket.
It is perfect for maintaining energy during a long meeting or busy commute, and comes in three flavors: mocha, pure drip, and latte.
Customers can get 20 packs of 4 for $42.
Some of the inventions available on Amazon Launchpad are complex.
Others, like Pon, are elegantly simple. Pon are push pins that can be used to hang pictures and memories without putting holes in them!
Simply slide Pon onto your pictures like a paperclip and pin them without any damage.
A pack of 25 costs only $12.
Good posture not only helps us stay focused and productive but also prevents back problems. Since we spend so much time sitting at a desk these days, good posture is even more important.
This wearable attaches to the back and vibrates when you start to slouch, so you can learn to improve your posture over time.
Upright is available for $129.89.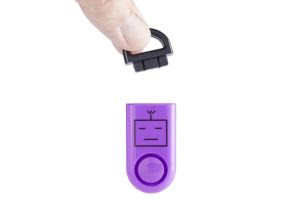 Whether you are an adult with a daily commute through less-than-ideal neighborhoods or a concerned parent who wants to keep their kids safe, ROBOCOPP's SOS Personal Alarm is a compact device that emits a loud siren when the pin is pulled.
It is reusable and a great way to get attention in an emergency.
These are currently available for just $4.99.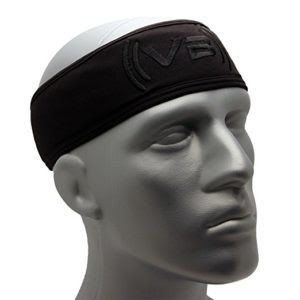 Am I the only person who loves a good head massage after a long day?
You're full of stress, fatigue, and you're emotionally drained. You just want to relax.
Although nothing beats having a loved one or significant other give your brain a good massage, this hands-free device might come at a close second.
This rechargeable, comfortable head massager vibrates in specially designed patterns on your temples and forehead to provide your brain some needed relaxation.
Vi-Band is just $29.99 on Amazon.
Every parent knows the struggle. You've finally managed to get your newborn asleep but then someone makes a loud noise and suddenly, they're crying and you're left feeling like you want to cry too.
Now, you don't have to worry about these annoying sounds waking up or startling your children. HUSH Hat is lightweight, soft, and absorbs sound pollution that bothers kids.
HUSH Hats are available for $19.95.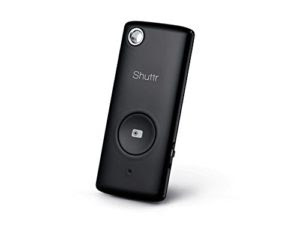 Muku Shuttr is a compact selfie remote that works within 30 feet.
Forget asking strangers to take your picture, or have a friend or family member left out. You also don't have to awkwardly try to manage to take a selfie with your iPhone.
Now, you can take great selfies, videos, and group pictures with the click of a button.
Get yours now for just $39.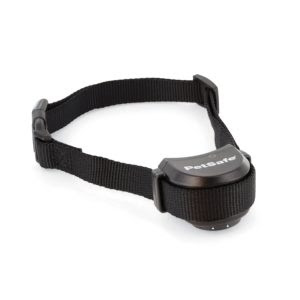 Pet owners love to let their dogs run around outside and get exercise, but what happens when your yard isn't fenced in and your pet could run away?
You don't want to have to put up posters, hoping that someone else has found and will turn in your pet.
Wireless Fence Collars are a wonderful answer to this problem.
Fitting any pet over 5 pounds, this collar uses 5 levels of static correction to let pets know how far they can go.
Pet owners can get theirs on Amazon for $119.95.
Matter and Form is a compact and portable 3D scanner that works with MAC and Windows PC.
Use this 3D scanner to create accurate scans from solid objects that can be used for design, 3D printing, and animation.
The 3D printing industry is exploding!
We're seeing more and more products come out that make it much simpler to prototype a product and get it out there in the hands of your early adopters or your team.
I think we're going to see much more growth in this area in the years to come.
This scanner is available for $466.99.
As time goes on, wearables are getting smaller and more aesthetically pleasing. They're becoming more of fashion items, rather than just clunky technology gadgets.
Ringly is a ring that connects with iOS and Android devices and alerts the wearer with customized vibration, patterns, and light.
Users can program their desired notifications so they don't miss anything important, and the ring's battery lasts about 2 to 3 days.
Ringly is available on Amazon for $195.
It is recommended that we change our toothbrushes every three months, but imagine all the plastic waste that this causes.
Goodwell makes biodegradable toothbrushes using sustainably harvested bamboo and binchotan bristles that innately balance the pH in your mouth and fight germs that cause bad breath.
What we like about this product is the elegant design. It looks like something that would be really cool to use!
Goodwell Bamboo Toothbrushes are available for $17.15.
Just about everyone loves to sing and listen to music in the shower.
The On Hand Creature Speaker is a waterproof speaker that suctions to the shower and uses Bluetooth to play your music.
Don't worry about bringing your phone near the water and risk getting it damaged, "Kesha" works if your smartphone is within 30 feet.
Not to mention, Kesha is pretty cute.
These speakers only cost $28.85.
T Spheres are lavender oil infused aromatherapy massage balls that are great for calming, relaxation, reducing anxiety, and getting better sleep.
T Spheres are great natural remedy for headaches, muscular pain, joint pain, and back pain.
They also stimulate lymph flow which can strengthen the immune system.
Finally, they're portable and convenient!
This Peace and Quiet set is available for $35.
Laundreez is a portable, waterproof, compact bag for washing clothes that can fit up to 6 liters of water.
This durable bag with a twist cap can have multiple uses, like storing valuable or wet items when traveling.
Laundreez is perfect for hand washing clothes during camping trips.
Amazon customers can get their own for just $35.
Conclusion
Amazon Launchpad really has something to offer everyone. From the newest tech and gadgets to earth-friendly products, this is a great spot to look for cool inventions and gift ideas.
With Amazon's trusted reputation and growing list of innovative products from crowdfunding campaigns, incubators, and VCs, Amazon Launchpad is a great program that helps startups market their new products and sell more.
What is your favorite item on this list?
Weekly Success Tips
Want to receive awesome valuable resources that will help you run a successful Kickstarter, Indiegogo, or other type of crowdfunding campaign? Join 20,000+ other readers working hard to make their dream a reality.